---
Introduction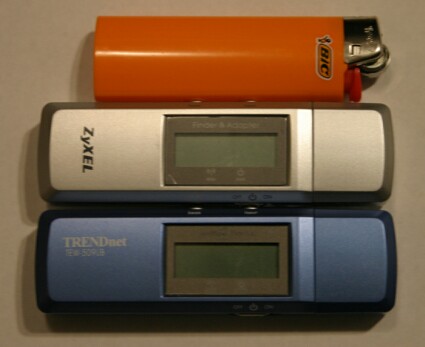 ZyXEL AG-225H

Pros
Cons
• Dual-band
• Rechargeable battery
• Shows SSID, encryption, signal strength
• Comes with Funk Odyssey client
• Functions as soft AP
• Slightly more expensive
• No backlight
TRENDnet TEW-509UB

Pros
Cons
• Dual-band
• Rechargeable battery
• Shows SSID, encryption, signal strength
• Slightly less expensive
• No backlight
• No AP mode or bundled Odyssey client
In today's world, wireless networks are nearly ubiquitous. Wherever you go, there they are - from an access point in a wireless café, to a university-wide wireless network, to even your own next-door neighbor's access point. The only hard part is figuring out where they are and which one to connect to.
To save you the trouble of pulling out your laptop and opening up your favorite wardriving program, ZyXEL and TRENDnet have each released own finger-sized Wi-Fi finders - the AG-225H from ZyXEL and the TEW-509UB from TRENDnet - that provide all the information you need to know about in-range wireless networks. Both are the first Wi-Fi finders that are able to sniff out nearby 802.11a wireless networks, in addition to the 802.11b/g detection provided by their predecessors. In addition, both devices can act as wireless network adapters when plugged into a USB port, allowing you to connect to the WLANs that you find.
It's obvious from looking at them, that these two products are virtually identical. The TRENDnet device may be blue and say 'Hotspot Detector' upon booting up, while the ZyXEL is silver and has 'Hotspot Finder' as its welcome message. But aside from that, the devices are like the proverbial Romulus and Remus of the Wi-Fi detector world.
A little detective work on the FCC ID website reveals that the two products use the same hardware - the WUB-410Z made by U-Media Communications in Taiwan. The U-Media website isn't very informative, but the FCC docs show that the devices are based on ZyDAS' ZD1211, which is an integrated baseband processor and MAC for 802.11a/b/g WLAN applications that has both USB 2.0 and 16 bit Interfaces.