---
Internals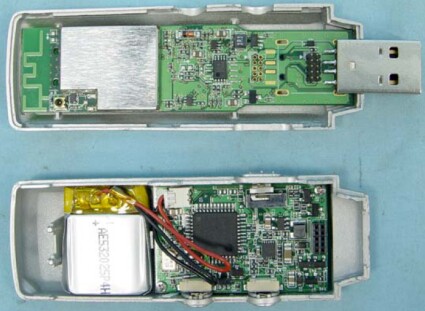 Figure 1: Internal view
Figure 1 shows there are two boards packed inside that are joined by a small 10 pin connector located near the USB connector. The board in the top half of Figure 1 is the radio board (which has the ZD1211 on the other side) and the board in the bottom that is attached to the NiMH battery is most likely the processor board.
By the way, according to the FCC docs, TRENDnet's TEW-429UB 11b/g only Wi-Fi finder / USB adapter is also manufactured by U-Media. And while I can't say for sure that U-Media also makes Linksys' just-announced WUSBF54G Wireless-G USB Adapter with Wi-Fi Finder, it is also based on the ZD1211 and has a design very-similar to that of the U-Media-manufactured devices.
Each device is about the size of a stick of gum (or, to use the current parlance, an iPod Shuffle), and has an on/off switch on the bottom. A cap on the front pops off to reveal the USB 2.0 connector, while there is a tiny hole on the back to allow it to be attached to a lanyard. On the top are two buttons - a 'Seek' button to search for wireless networks and to change the search mode, and a 'Next' button to view the next network in the list - and on the front is an LCD screen showing information about the currently-selected wireless network.
One problem with both of them is the lack of a backlit screen. The screens are definitely high-contrast, as touted in their promotional materials, but in dim light (or even outside on an overcast day) it takes a good deal of effort to see what is on the screen. In the design category, I would give the TRENDnet device a slight edge, for the fact that it displays the number of wireless networks found while still scanning (the ZyXEL device only shows the number of networks found once its scan has completed) and also has a nice snazzy blue color. Though that last reason is more than a little subjective.