---
Digging Deeper
Like the WET11, the WET54G is based on the Ubicom IP2022 Internet Processor. I found when I opened the case that the design was very similar to the WET11's, with the main changes being a different CardBus-based radio (Linksys WCB54G), 10/100 Ethernet interface (vs. 10Mbps on the WET11), and higher-capacity RAM and Flash memory.
The radio plugs into the main board via a bare connector header and is connected to the RP-SMA antenna jack via a short cable that plugs into a teeny, tiny connector on the radio. Note that only one of the two antenna jacks on the radio board is used, so the WET54G doesn't feature diversity operation.
A look at Photo 1 also reveals that the WET54G doesn't feature a Broadcom-based radio either! The photo of the WCB54G radio board clearly shows Intersil components. A check of the part numbers further reveals that they belong to the PRISM Duette Dual-Band chipset! I'm puzzled that the radio didn't use Intersil's 802.11g PRISM GT chipset, but who knows what lurks in the mind of Linksys?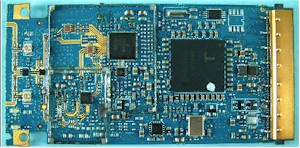 Photo 1: WCB54G radio board
(click on the image for a full-sized view)
Although Linksys has tapped Atheros for the 802.11a radio in its dual-band, tri-mode products, the WET54G is the first Linksys product to use an 11b/g radio from a vendor other than Broadcom. This vendor-blending approach strategy isn't unique to Linksys, by the way. D-Link, for instance, has two versions of its DWL-G650 board - one using an Intersil-based radio, the other using an Atheros-based design. NETGEAR also started out using Intersil-based 11g products, but is also using Atheros for its upcoming dual-band, tri-mode AP and router.