---
Compaq iPAQ Wireless USB Adapter, PART NUMBER: 250702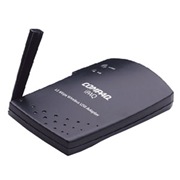 Device Name: Compaq 11 Mbps Wireless USB Adapter
Device ID: USB\VID_03eb&PID_7603
TITLE: Compaq iPAQ Wireless USB Adapter Driver for Windows XP
Version: 1.1.2.25 (14 Dec 2001)
Operating System(s): Microsoft Windows XP Home Edition, Windows XP Professional
File name: sp19977.exe (1.3 MB). Download 1, Download 2
DESCRIPTION:  This contains the Windows XP driver for the Compaq iPAQ Wireless USB Adapter, for use with any computer running Windows XP that has a USB port.
ENHANCEMENT(S):  
- New deployment for easier installation. (More details available in README.TXT file unpacked when SoftPaq is executed.)
HOW TO USE:
1. Download the SoftPaq to a directory on your hard drive.The file downloaded is a self-extracting executable with a filename based on the SoftPaq Number above.
2. Execute the SoftPaq by double clicking on the SoftPaq executable file.