---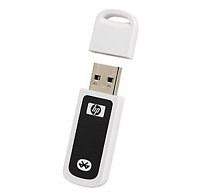 Print wirelessly, straight from your PDA, laptop, camera phone, or other Bluetooth-enabled device. Listen to music wirelessly from your PC (when using HP Bluetooth-enabled headphones)1 What can make this happen? Our bt500 Bluetooth USB 2.0 Wireless Adapter.
Works with HP PCs, HP Bluetooth-enabled printers, and Microsoft Windows Vista.
Wirelessly connect your Bluetooth-enabled devices to your PC and Bluetooth-compatible printer
Wirelessly transfer documents, photos, music, and e-mail to your PC from your Bluetooth-enabled devices2
Wireless print documents, e-mail, text messages, photos, and graphics—just plug the adapter in any HP-Bluetooth-enabled printer
Use with headphones, mice, keyboards, printers, cell phones, and PDAs
Connect up to seven Bluetooth-enabled devices within a range of 30' with EDR (enhanced data rate)
Warranty: one-year limited
Compatibility: Microsoft Windows 2000, XP, Vista; Mac (plug and play)
1. Supports camera phones and devices with Bluetooth wireless technology. See www.hp.com/go/btadapter for a list of compatible devices. Wireless performance depends on physical environment and distance from access point.
2. HP Bluetooth Stereo Headphones sold separately.
Technical specifications
| Specification | Description |
| --- | --- |
| Transfer Rate | 3 mb/s (2.1 mb/s) |
| Range | 10 meters (32.80 feet) |
| Connectivity | USB |
| Sync Button | No |
| LED | Blue |
| Headset enabled | Yes |