---
The Intel® PROSet/Wireless Main Window allows you to:

View the current connection status (signal quality, speed and current network name)
Scan for available wireless networks
Manage profiles
Auto-connect profiles to available networks in a specific order defined in the Profile list
Connect to Infrastructure and Device to Device (ad hoc) networks
Configure adapter settings
Troubleshoot wireless connection problems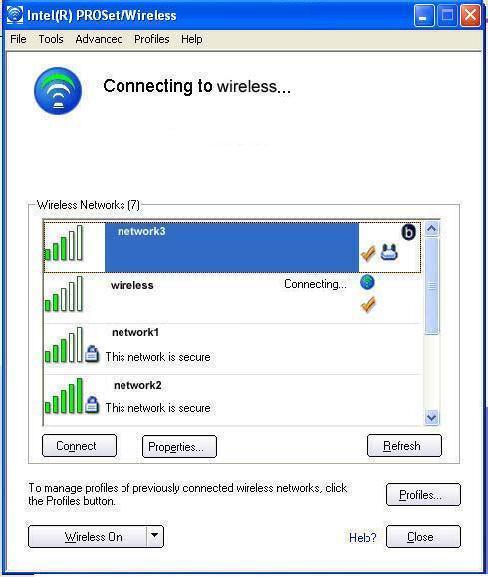 Wireless Troubleshooter (Tools Menu)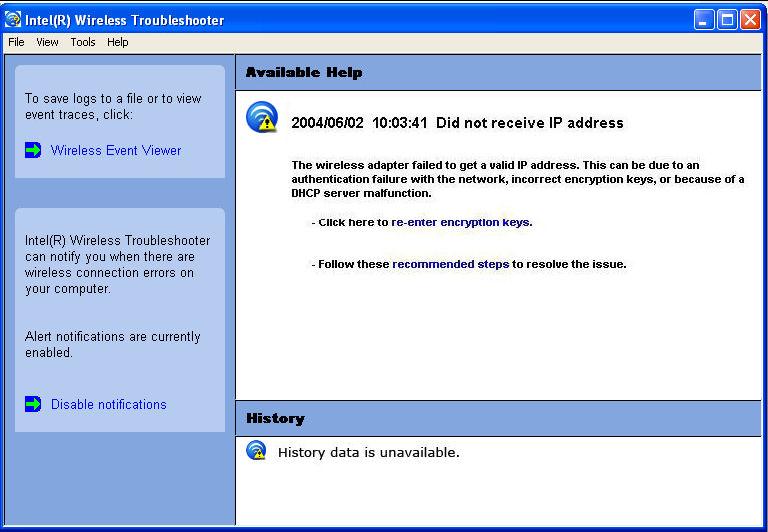 Intel® Wireless Troubleshooter is an application that can help you resolve wireless network connection issues. When a connection issue is detected, a desktop alert appears at the bottom right corner of your desktop. Once you click the desktop alert, a diagnostic message displays the recommended steps to resolve the connection problem. For example, if a connection problem occurred because of an invalid password, the Profile manager application is launched when you click a displayed hyperlink. You can also launch Wireless Event Viewer and enable or disable alert notifications. The Intel Wireless Troubleshooter is supported under Windows* XP and Windows* 2000.
The Intel Wireless Troubleshooter page contains two panes. Use your left mouse button on the left pane to display a list of available tools. The right pane displays the current connection issue in a section. Each section has two parts: the error message and the recommended action. The recommended action contains descriptions about available utilities and helps to resolve the associated connection issue. If you click a help link, the help text is displayed in a window. If you click the associated issue resolution link, a program is launched to resolve the connection issue.
Menu Options



File

Wireless Event Viewer:
Launches Wireless Event Viewer.
Disable Notification/Enable Notification:
Select to disable or enable alert notifications.
Exit:
Click to exit the Intel Wireless Troubleshooter application.
View
Displays or removes the History data on the right panel of the Intel Wireless Troubleshooter.
Tools

Manual Diagnostics Tool:
Run diagnostic test to verify the functionality of your wireless adapter.
Help

Intel Wireless Troubleshooter Help:
Displays online help for the Intel Wireless Troubleshooter.
About:
Displays version information for the Intel Wireless Troubleshooter.
Available Help
Date Time error message:
Description of error.
Link to resolve error (if available). See Resolve Errors below.
Link to recommended steps to resolve error.
History
Maintains a list of the last five alerts. The alerts are listed chronologically, with the most recent alert at the top of the list.
Operating System:
Windows* XP Professional x64 Edition, Windows* 2000, Windows* XP 64-Bit Edition, Windows* XP Professional, Windows* XP Home Edition, Windows* XP Tablet PC Edition, Windows* XP Media Center Edition
This applies to:Intel®PRO/Wireless 2200BG Network Connection
Intel®PRO/Wireless 2915ABG Network Connection
Intel®PRO/Wireless 3945ABG Network Connection
Intel®Wireless WiFi Link 4965AGN