---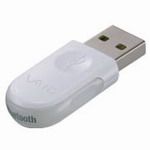 Product Description: PCGA-BA1
Product ID: VNCABTH11
• Compatible with VAIO notebooks (Microsoft Windows XP models only, Service Pack 1 is required)
• This USB adapter makes your VAIO Bluetooth enabled, and communicates to other Bluetooth devices
• Connect with Bluetooth enabled Sony CLIÉ™ handheld for wireless Hot sync and file push. Connect to Bluetooth enabled mobile phones as a modem for mobile connection to web and e-mails.
• Profiles: Generic access profile, Serial port profile, Dial-up networking protocol, Human interface device profile, hard copy cable replacement profile, service discovery application profile, generic object exchange profile, object push profile, basic imaging profile.
Device Name: USB Bluetooth Driver(CSR)
Device Hardware ID: USB\VID_044E&PID_3001
Download Sony PCGA-BA1 Bluetooth USB Adapter Windows Driver, Software:
Sony Bluespace NE v2.29 (English): Download
Sony BlueSpace Ne v3.1.00.04240(English): Download;  Patch for Updated to Bluespace NE v3.4;