---
Basic Features
The Plus features an 802.11b/g wireless access point with two detachable antennas connected using standard RP-SMA jacks. According to the FCC documents, the radio is an XG-600 mini-PCI module (Figure 1) that appears to be manufactured by ZCom and uses a Conexant PRISM chipset. While the exact model number is different, ZyXEL said that this is essentially the same radio used in the G-2000.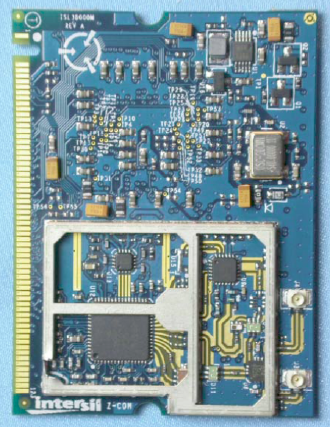 Figure 1: The radio
(click to enlarge)
I didn't crack open the case to peruse the Plus' innards, but ZyXEL confirmed that the main board design is also essentially the same as that of its older sibling, (A picture of the G-2000's main board is here.) and is based on an ARM-based Samsung 2510.
In addition to the four 10/100 switched LAN ports found on one it the Plus' side panels (Figure 2), there's also a single 10/100 WAN port. All ports are auto-negotiating and auto MDI / MDI-X (automatically adjust to either a crossover or straight-through Ethernet cable). The connector panel also sports a recessed reset-to-factory-defaults button and power jack.

Figure 2: The ports
(click to enlarge)
Easy-to-read status lights are arranged in a strip on the top of the Plus and indicate power, system status, and wired LAN and WAN activity. There's also a large blue well-illuminated ZyAIR logo, which is used indicate wireless activity.