---
Setup and Administration
Installing the G-2000 Plus is simple. Even without referring to the extensive documentation, most seasoned geeks should be able to get everything connected up and running without any trouble. After everything is plugged in, just open a web browser on any computer connected to the LAN and point it to the router's default address of 192.168.1.1. You can also connect using telnet if you'd prefer, though this means you must wade through device configuration using a text-based interface. It's there if you need it, and handy for quick fixes or changes, though.
The web interface makes configuring everything pretty easy, even for folks who may not need or understand some of its more advanced features. The web interface also includes a decent online context-sensitive help system.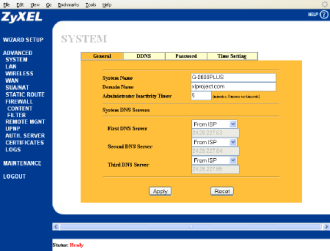 Figure 3: System General Configuration
(click to enlarge)
Once you're connected to the web interface and logged in, you can configure the device in a couple of different ways. On the left, there's a list of topics. Click on a topic, and you're taken to a setup page, usually with tabs across the top. Click through the tabs to configure various related items There's also a "Wizard Setup" method provided (Figure 4), which walks you through the basics for those in need of hand-holding.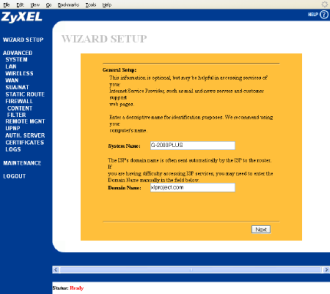 Figure 4: Wizard Setup
(click to enlarge)
The rest of the configuration follows the same tabbed layout shown in Figure 3.