---
Introduction
At a Glance
Product
Belkin N1 Wireless Router (F5D8231-4)
Belkin N1 Notebook Card (F5D8011)
Summary
Draft 11n router and CardBus card based on Atheros xspaN silicon
Pros
• Neighbor-friendly draft 11n operation
• Lots of installation aids
• >100Mbps routing speed
• Informative and helpful router front panel
Cons
• Severe throughput loss when using any security except WPA2
• Multi-second pauses in high-speed wireless traffic
• Router can't handle many simultaneous connections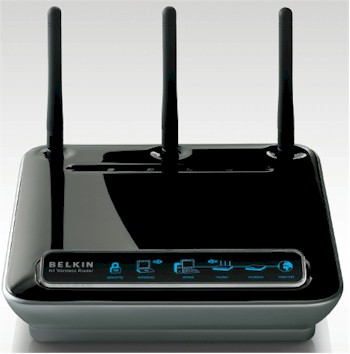 Belkin was kind enough to send me one of the first review samples of its N1 router and Cardbus card. But due to a very busy summer, it has taken me way too long to get this product reviewed and for that, my apologies to Belkin. The N1 was the first draft 802.11n product to hit the streets using Atheros' xspaN MIMO solution. xspaN was the one chipset missing from the Draft 802.11n Revealed series and I was curious to see whether Atheros had cracked the code on making "legacy-friendly" draft 11n chips.
As it turns out, Atheros has advanced the state of the draft 11n art in some respects. But it has also taken a step backwards in secure WLAN and routing performance.
Basic Features
I have to say that Belkin did a nice job with the industrial design of the N1. While it's easy to see the family resemblance to Belkin's Airgo-based "Pre-N" Router, the N1 is finished in glossy black vs. dull gray and has its three non-detachable antennas positioned at the rear instead of the front.
The front panel is a key innovation that Belkin is particularly proud of. The panel (Figure 1) is angled for easy viewing and contains large icons that represent key router functions. It is intended to provide an at-a-glance view of the various levels of connection status and it seems to do that well.

Figure 1: The N1 front panel
What you don't get from the front panel, however, is any indication of data traffic activity, i.e. none of the icons flash to show traffic. For that, you'll need to check the LEDs on the rear panel (Figure 1) Ethernet jacks for wired traffic. But in a surprising omission, there is no indicator for wireless activity.

Figure 2: The N1 rear panel
Connectors on the rear panel include four 10/100 LAN ports, one 10/100 WAN port and a power jack. All ports are auto MDI / MDI-X which means they'll figure out how to connect to whatever you plug into them. There's also a reset / reset-to-factory-defaults switch in case you need it. Note the lack of gigabit Ethernet capability, which means Netgear's WNR854T RangeMax Next Wireless Router - Gigabit Edition is still the only draft 11n product to include gigabit LAN ports.