---
Introduction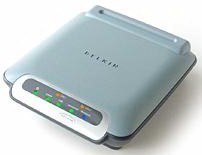 Belkin Bluetooth Access Point with USB Print Server (F8T030)
Summary
Class 1 Bluetooth 1.1 Access Point. Can support printing to two USB 1.1 printers from LAN or Bluetooth devices
Update
None
Pros
• Class 1 (100M) device
• Reasonably priced
Cons
• Print server needs work
• MS Network browsing not supported
It's been a long time since I've had a Bluetooth device in for testing. My previous experience with 3Com's 3CRWB6096 Bluetooth PC Card was almost two years ago, and relatively frustrating. The card worked well - almost too well given its surprisingly wide range - but the inability of the card to connect into my LAN left me with not much to do in the way of evaluation. A Bluetooth Access Point would have made things more interesting, but such devices were both expensive and hard to come by almost two years ago.
Flash forward to today and Bluetooth is still struggling to make its mark on the wireless networking map. However, it looks like at least one barrier to more widespread use of Bluetooth is ready to fall. Belkin's F8T030 Bluetooth Access Point is not only affordable, but throws in a two-port USB print server to sweeten the deal.
Features
The F8T030 comes in a stylish grey plastic package that's about the size of couple of CD "jewel boxes" stacked on top of each other, with slots on its bottom for wall or ceiling mounting.
All indicator lights are on a slightly sloped panel on top of the box and are bright and viewable from a wide angle. The indicators are: Power, System, LAN (Ethernet Link), Connected, Bluetooth Link/Activity, and USB 1 and 2. The blue (naturally) Bluetooth indicator lights only when one or more Bluetooth devices are connected to the AP and blinks when there is data flowing.
The Ethernet 10/100 port and power jack are on the rear panel, along with two USB 1.1 A-type connectors for connecting two printers to the built-in print server. There is no hardware reset switch.