---
Linksys WRT54GC
The WRT54GC is a combination router / firewall, a 4 port switch, and an 802.11g wireless access point. It's quite small, measuring 3.86" x 3.86" x 0.98" (98mm x 98mm x 25mm). There's no external antenna, but there is a flip-up port with an RP-SMA connector where you can attach an optional antenna to extend the product's range.
All cable connections enter from the back, while the front displays the current status with a series of lights. There's a little twist out foot that allows you to set the gizmo upright if you want, and there are slots on the back you can use for mounting it to the wall. Linksys includes the power cable, one Ethernet patch cable, and an installation CD. The owners manual is contained on the CD in PDF form - there is no hard copy provided.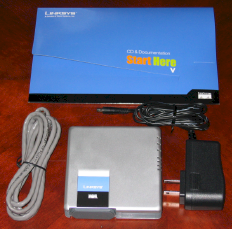 Figure 2: Linksys WRT54GC box contents
(click image to enlarge)
Figure 3, which is taken from the 54GC's FCC ID documents shows that it uses Marvell's Libertas 802.11g Access Point / Gateway Solution, which inclues an 88W8000G RF Transceiver, 88W8510H System-on-Chip (SoC) and 88E6060 5-port switch. Actually, you can't really see all the part numbers, but since Linksys uses the same chipset in its WRT54GP2 wireless VoIP router [reviewed here], I'm probably not going too far out on a limb here.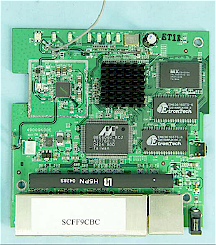 Figure 3: Linksys WRT54GC Internals
(click image to enlarge)
Although it's hard to see in the board photo, the GC's internal antenna is located at the lower left of the photo. But when the board is mounted in its case and stood upright, the antenna sits at the top of the case, parallel to the table top the GC sits on.
The WRT54GC provides a web browser based configuration utility, so setting things up is pretty simple. In addition to providing a stateful firewall, the device can serve as a DHCP server, and it also includes some basic access filtering capabilities. Interestingly, the underlying software which runs on the product is actually based on Linux, which of course opens up a whole world of possibilities. Linksys has been using Linux for a while now in many of their products, and there's a whole community of folks that work on enhancing those products' capabilities.