---
ASUS WL-530g
The WL-530g is also a combination router / firewall, a 4 port switch, and an 802.11g wireless access point. It too is small, measuring only 5" X 1.7" X 1.1" (129mm x 44mm x 29mm), and opts for a single small removable external antenna with an RP-SMA connector. There is no internal antenna, and you'll see why shortly. The 4 switch ports and the power connection are along one side, with the WAN connection entering on one end. Each port has its own connection status lights.
A negative for the 530g is that there is no apparent means of setting the unit upright or mounting it, or making it stay put when you start hanging connectors off it. But on the positive side, ASUS includes a power cable with adapters that surely fit every power socket made on earth, plus an installation CD a nice printed owners manual and a patch cable. (Figure 4).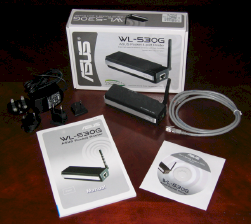 Figure 4: Asus WL-530g Contents
(click image to enlarge)
Figure 5, also taken from FCC ID documents shows the 530g is based on the same Marvell chipsest used in the Linksys GC, but with more creative packaging forced by the 530g's more compact form factor. There are two boards joined by header connectors, with the board on the left in Figure 5 holding the Ethernet connectors and 88E6060 5-port switch that they connect to.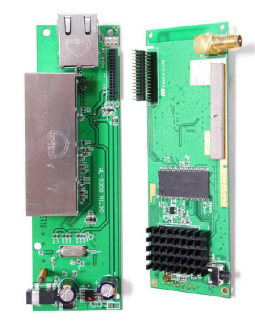 Figure 5: ASUS WL-530g boards
(click image to enlarge)
The right-hand board holds the 88W8000G RF Transceiver and 88W8510H System-on-Chip (SoC) (again under a heatsink).
| | |
| --- | --- |
| Figure 6: | Figure 7 |
| Figure 8 | Figure 9 |
Figures 6 through 9 offer more shots of the 530g's boards, that you can enlarge if you like by clicking on them or the links under them.
The WL-530g also uses a web browser based configuration utility, provides a stateful firewall, DHCP server, and basic access filtering capabilities. The software that runs on the WL-530g is also based on Linux.
Although physical appearance is different, actual features are very similar, even in what they don't provide. Neither product supports WDS bridging, and neither have any QoS or VLAN features (although both do support VPN pass-through on the firewall). What they do both have though, is all the basic features you'd expect to find, including a couple of things you may not, such as wireless MAC filtering and DDNS updating.