---
During the search process, Windows will try and install drivers for each Bluetooth printer it detects. This can make it quite a lengthy and tedious process. If the driver is not already installed on your PC, then you will need to supply an installation disk or download the driver from the internet before completing the add printer wizard.
IMPORTANT: Bluetooth Printers that were manufactured before 2004 may not be compatible with the Microsoft Bluetooth stack. For Windows XP to use a Bluetooth printer it must be capable of supporting the HCRP (Hard Copy Cable Replacement) profile. Check your printer's specification. Some Bluetooth printers can be upgraded – please contact the manufacturer.
At the end of the wizard, you will be asked if you want to print a test page. Say YES. It's a lot easier to check whether it works at this stage rather than later on.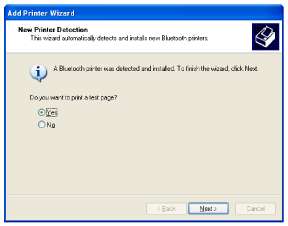 For some reason the page may not be printed until you're clicked Finish on the Completing the Add Printer Wizard Page. So click Finish.