---
The big difference(s)
What really sets the two products apart, however, is the 3Com's superior routing configurability and its ability to act as a wireless Ethernet client adapter (AP Client mode).
The NETGEAR's router (multi-user) mode configurability is limited to putting one client in DMZ, controlling WAN port ping response and disabling and setting the range of its built-in DHCP server.
But the 3Com's router mode configurability is much more like you get from other wireless routers. Figure 5 shows the router configuration tabs and the Port Forwarding page, while triggered ports ("Communication Applications") for Age of Empires, H323, ICU II, Internet Phone and Yahoo Messenger and the DMZ setting are found on the Internet tab.
Figure 5: 3Com Port Forwarding
(click on the image for a larger view)
Other supported features include Dynamic DNS for DynDNS, DtDNS and Cn99, UPnP (enabled by default), checkboxes to control PPTP, IPSec and L2TP passthrough (enabled by default) and a checkbox to control WAN port ping response (disabled by default). What the 3Com doesn't have is any port filtering or content filtering controls, however.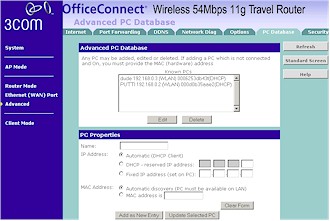 Figure 6: PC Database
(click on the image for a larger view)
Figure 6 shows the PC Database feature, which lets you reserve client IP addresses by client name or MAC address, or tell the 3Com that static address that will be used for each client. Note that this is not the MAC address filtering feature. That is handled by the Trusted Wireless Station feature.
The Client mode supports only one attached device - which I verified - but can work either in Infrastructure or AdHoc mode. The desired Client mode connection profile needs to first be added and selected using Configuration mode, however, and multiple profiles can be saved and enabled as needed. Figure 7 shows a Client profile for an AdHoc connection. Note that WPA-PSK is not supported in AdHoc client mode, just WEP 64 / 128.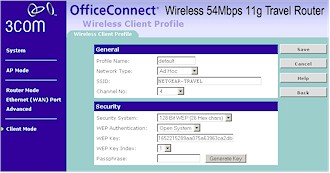 Figure 7: AdHoc Client mode profile
(click on the image for a larger view)