---
What you Need - more
You are welcome to use any type of external antenna you want (or none at all), but we purchased the Mobile Patch antenna pictured in Figure 4. The suction cup bottom of the patch antenna makes it wonderful for wardriving, as you can temporarily attach it to your car windows.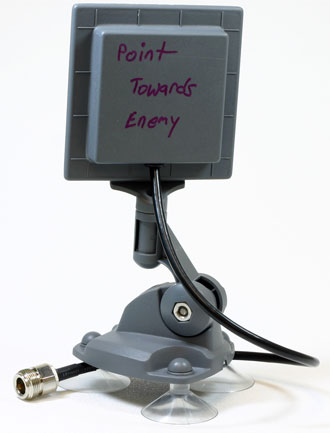 Figure 4: Mobile Patch Antenna
This antenna has 8dBi of gain and, like many antennas, has a short cable that terminates in an N-Female connector. For the Senao / Engenius cards, you will need to buy a pigtail with MMCX connector on one end. The connector is about 1 mm in diameter, with a very small pin in the middle (Figure 5).

Figure 5: MMCX connector on pigtail cable
As a side note, pigtail connectors are disliked by many people. It's an extra cable to carry around, and sometimes the connector breaks off. In addition, it is a pain to disconnect the pigtail from the Wi-Fi card, as it takes a decent amount of force to pull the connector off.
The Software
While cracking WEP requires several open source tools, all of these tools are thankfully pre-installed, on the free Auditor Security Collection LIVE CD. The CD boots a modified Kanotix Linux distribution into RAM (it doesn't touch your hard-drive) and auto-detects and configures many wireless cards.
Updated 6/1/2007: The Auditor Security Collection is no longer available. Use Backtrack instead.