---
Construction Details
The GS5 continues in the WET54G tradition and uses a Conexant PRISM-based radio instead of one based on the Broadcom AirForce chipset. The radio is integrated into the main board as a cost-savings measure, the same as now done in the WET54GV2 (the original WET54G used a CardBus radio).
I couldn't figure out from Conexant's website whether the combination of ISL3893 WiSOC (Wireless System on a Chip) and ISL3692 Dual-Band Radio would be considered a Duette or GT chipset, but it probably doesn't matter. What is important is that the WiSOC not only handles wireless MAC and Baseband duties, but serves as the GS5's main processor too, again keeping Linksys' manufacturing cost down.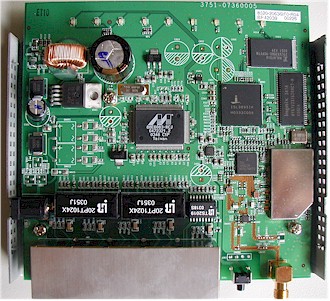 Figure 1: WET54GS5 board
(click on the image for a larger view)
Figure 1 also shows a Marvell 88E6063 Link Street 88E6063 7-Port Fast Ethernet Managed Switch that provides all of the GS5's nifty VLAN and QoS features that I'll get into shortly. 4MB of Flash and 128MB of SRAM round out the GS5's components.