---
Even More Switch Features
Although it's more a wireless security feature than a switch function, the Access List feature is under the Switch menu. It's your usual MAC address filter that can be set to use an Accept or Block list of MAC addresses that will be checked for traffic flowing in both directions across the wireless bridge. As is typical for this kind of feature, you can't save or load a list of MAC addresses to / from a file and the GS5 doesn't present a pick list of currently in-use MAC addresses to use in building the lists.
Finally, if you really want to get anal and control the GS5's Switch Table of MAC addresses, you can have at it. Figure 8 shows the controls at your disposal.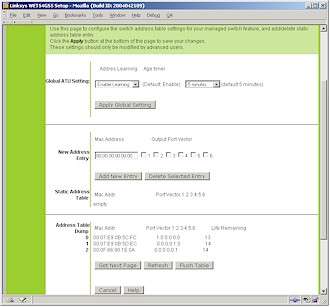 Figure 8: Switch Table
(click on the image for a larger view)
You can shut off the GS5's ability to auto-learn the relationship between connected devices' MAC addresses and physical ports or leave it in the default auto-learn and just control how long each entry is kept in the table (the range is from 32 seconds to 64 minutes in approximately doubling steps with a default of 5 minutes). If you disable auto-learning then you'll need to manually enter the table via the controls provided. Either way, you can view the current table or Flush it out and start anew.
There are a few other features scattered about the GS5's admin screens, so I'll just rattle them off in concise bullet format:
The Password page lets you set the Password and User Name for admin access and also reset the GS5 to factory defaults. Unfortunately, there is no reboot function available.

A handy Wireless Status page (Figure 9), which does auto-refresh but can't have its refresh interval changed or disabled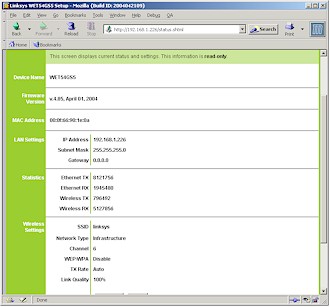 Figure 9: Wireless Status
(click on the image for a larger view)
An SNMP page where you can set the IP addresses for machines to receive SNMP trap messages for cold start or link state change events. (The Linksys logviewer application (direct FTP download link) can be used to capture and display these traps.)