---
Internal Details
The 2900G's board has a clean layout and surprisingly small parts count. It's powered by a Samsung S3C2510A 16/32-bit ARM9-based micro-controller with 2MB X 32 of RAM and 16Mbit of flash and a Kendin / Micrel KS8995X 5 Port 10/100 Integrated Switch providing the Ethernet and switch functions.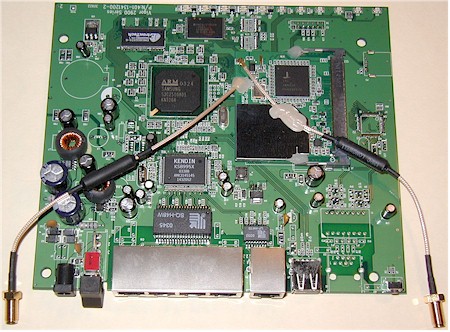 Figure 1: The 2900G board
(click on the image for a full-sized view)
The radio is a mini-PCI design based on Conexant's 802.11g PRISM GT chipset, which is cabled to two RP-SMA style connectors that connect to dual jointed dipole antennas.
Of note is the fact that the Samsung processor has built-in hardware DES and 3DES encryption, which helps the 2900G achieve surprisingly fast VPN tunnel throughput (more later).