---
Introduction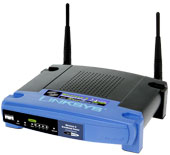 Linksys Wireless-G Broadband Router with SpeedBooster
Summary
802.11g Router based on Broadcom "Afterburner" chipset. Does not support bridging and repeating
Update
19 April 2004 - Corrected info in Internal Details
2 April 2004 - Clarifications in last section.
Pros
• Up to 50% best-case throughput improvement
• Upgradeable antennas
• Resonably-priced parental control service option
Cons
• Poor throughput vs. distance performance
• Limited port filtering if you don't use the optional parental control service
• Very limited wireless monitoring
Linksys' WRT54G Wireless-G Broadband Router has been a very successful product and the most popular product review here on TomsNetworking. It's also been a great product for Broadcom, whose wireless chipset has shipped in each and every one.
The WRT54GS Wireless-G Broadband router with SpeedBooster represents Linksys' entry into the "enhanced" 802.11g wars. It's based on Broadcom's "Afterburner" technology, which Linksys says "increases wireless network performance by up to 35%". Since this is my first review of an "Afterburner"-based product, I'll look at this claim pretty closely in the Wireless Performance section.
Note that the WRT54GS and its companion WPC54GS Cardbus card don't replace their existing non-SpeedBoosted siblings, but are being positioned as higher-performance alternatives - at higher prices, of course.