---
Wireless Features
Wireless settings have been organized into their own section with separate pages for Basic, Security, MAC address filtering and Advanced features. Figure 5 shows the more interesting Advanced settings, which include the ability to disable 11b Protection Mode (CTS Protection Mode) and Frame Bursting.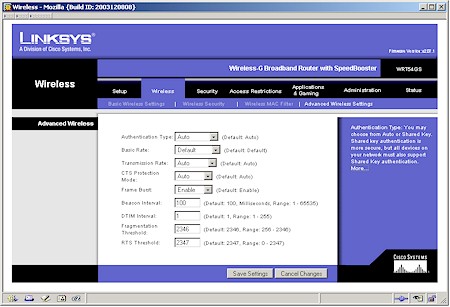 Figure 5: Advanced Wireless Setup screen
(click on the image for a full-sized view)
Basic wireless controls include setting the Network Mode to Mixed, B-Only, G-Only or disabling the radio entirely. There's nothing new in the MAC Address Filter section which still lets you enter 40 MAC addresses of clients that will be denied or allowed access to your Wireless LAN.
The feature also still uses three different windows to view and set MAC addresses, which I find confusing to navigate. The good news is that you still get a list of currently connected wireless clients that you can just select to have copied to the MAC address list window. The bad news is that the list of filtered MAC addresses can be neither saved or loaded to/from a file.
TIP: This is actually a wireless association control, so if you have the Prevent mode set and a wireless client's MAC address entered, not only will they be denied Internet access, but more importantly access to all your wired and wireless LAN clients.
The GS includes a full set of wireless encryption and authentication options, including support for Wi-Fi Protected Access' (WPA) "Enterprise" (RADIUS) and Pre-Shared Key (PSK) modes. The GS can also pass WEP-encrypted authentication requests to an external RADIUS server (Figure 6) .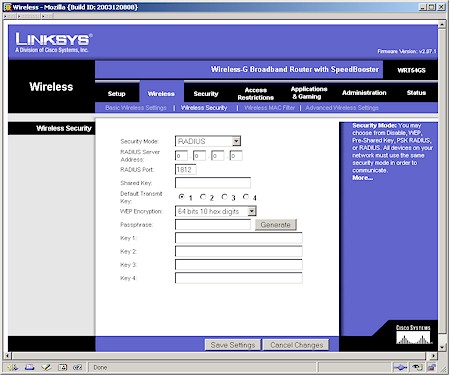 Figure 6: RADIUS settings
WEP is also supported, but I strongly recommend you use at least WPA-PSK mode due to its improved security. You can enter 64 or 128 bit keys either in Hexadecimal or via an alphanumeric passphrase. The passphrase method generates four different keys, which unfortunately can't be saved to a file, which would make client entry a little easier.
Like its predecessors, the GS disappoints in its ability to monitor wireless clients and provide information about wireless data flow or signal strength. The only way you have of knowing whether wireless clients are connected is still to enable the MAC Filter list, click the Edit MAC Filter List button, then click the Wireless Client MAC List button on the window that opens.
I was also disappointed to find that WDS-based Wireless Bridging still isn't supported. I'm puzzled as to why Linksys hasn't added this often-requested feature, but they haven't. So if wireless repeating or bridging are on your list of must-haves for an 802.11g router, you'll still need to look at Buffalo Tech's WBRG54 (or just-introduced WBR2-G54) router instead.