---
802.11a saves the day
Since the 55AG uses a second generation 11a Atheros radio, I was hoping it might provide the higher speed that the 11g radio didn't deliver. Figure 13 shows that I wasn't disappointed.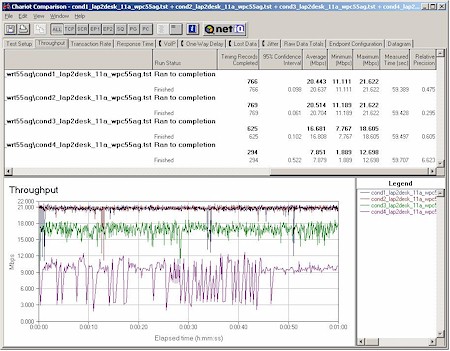 Figure 13: 802.11a throughput
(click on the image for a full-sized view)
The plots show a top throughput of around 20Mbps, lower throughput variation, and decent performance even at my longer-range test locations. The performance wasn't as good, though, as what I saw with the NETGEAR WAB102 / WAG511 combination shown in Figure 14.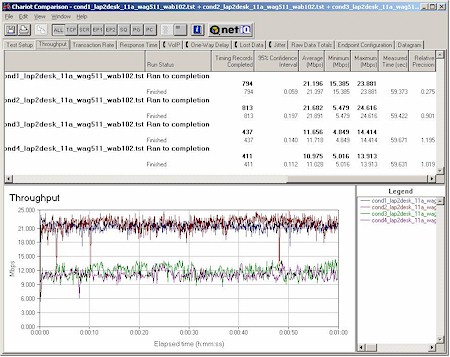 Figure 14: 802.11a throughput - NETGEAR WAB102 and WAG511
(click on the image for a full-sized view)
The only explanation I can offer for the 55AG's inferior performance is its single-antenna / non-diversity design, since the radios in both products are essentially the same.
I didn't run any Turbo mode tests, since Linksys chose not to provide that feature. I did, however, check WEP-enabled performance, and, as I expected, found performance virtually identical to that with WEP disabled.
802.11a Wireless Performance Test Results
Test Conditions


- WEP encryption: DISABLED
- Tx Rate: Automatic
- Power Save: Disabled
- Test Partner: Linksys WPC55AG Cardbus card

Firmware/Driver Versions

AP f/w:
1.02 Mar 11 2003
Wireless client driver:
2.3.0.63 WinXP
Wireless client f/w:
No Info

Test Description
Signal Quality (%)
Transfer Rate (Mbps)
Response Time (msec)
UDP stream
Throughput (kbps)
Lost data (%)
Client to AP - Condition 1
0
8.6
[No WEP]
7.9
[w/ WEP]
4 (avg)
16 (max)
494
0
Client to AP - Condition 2
0
6.9
2 (avg)
9 (max)
475
0
Client to AP - Condition 3
0
6.3
2 (avg)
8 (max)
485
0
Client to AP - Condition 4
0
5.3
6 (avg)
28 (max)
495
0
See details of how we test.
---