---
Wireless Performance - 11g
NOTES:
• "Signal Quality" readings were not available
• Testing was done with a Linksys WPC55AG Cardbus client card in a WinXP Home Dell Inspiron 4100 laptop unless otherwise noted
Since the 55AG uses Broadcom 11b/g and Atheros 11a radios - both of which I'd tested before in other products - I thought I knew how it would perform. But Linksys' implementation had a few surprises in store...
The first surprise was the 55AG's poorer 11g performance shown in Figure 8. It shows the results of my four location throughput test using a Linksys WPC55AG CardBus client card with the router set to Mixed mode.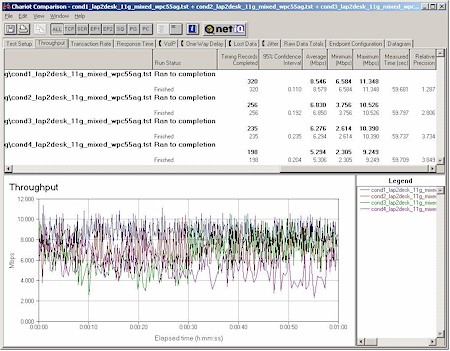 Figure 8: Four Condition Throughput test - WRT55AG
(click on the image for a full-sized view)
When compared to the performance of the WRT54G router with WPC54G CardBus card shown in Figure 9, two things become very clear:
1) The WRT55AG / WPC55AG has much lower maximum and average throughput under best-case signal conditions

2) The WRT55AG / WPC55AG has much higher throughput variation in all test locations.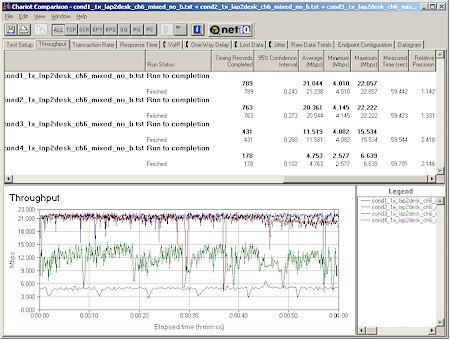 Figure 9: Four Condition Throughput test - WRT54G
(click on the image for a full-sized view)
Since both routers use the same Broadcom mini-PCI radio, I suspected the difference might be due to the Atheros-based radio in the WPC55AG card vs. the Broadcom-based radio in the WPC54G, so did a quick throughput run using that card as a client.
Figure 10 shows higher average throughput with the WPC54G used as a test client, but performance still lower than the WRT54G / WPC54G results. My conclusion is that the draft 6.1 level code in the WRT55AG is probably to blame for the lowered performance.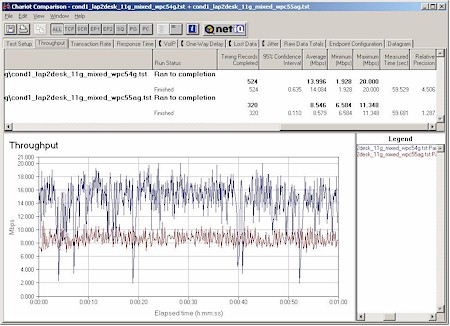 Figure 10: WPC54G vs. WPC55AG throughput
(click on the image for a full-sized view)
I also stumbled upon a return of the "warmup" effect that I found in my WAP54G testing when I started seeing a significant difference between my initial and subsequent test results. Although Figure 11 shows the throughput drop after only about 2 minutes, it was more typical to see it occur about 10-15 minutes after a cold start of the router. I told Linksys about this issue, but they weren't able to confirm or explain it by the time I was ready to post this review.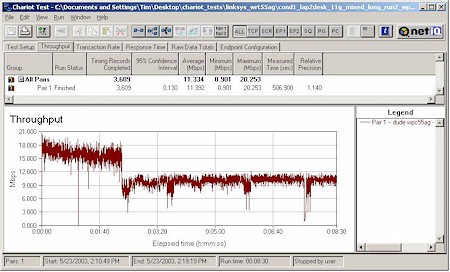 Figure 11: Long throughput test
(click on the image for a full-sized view)
I ran some tests in G-Only mode, which disables the 11g "protection mechanism" that allows 11b clients to connect, and also checked to see what would happen when an 11b client associated while an 11g test was running in Mixed mode. But since new firmware based on the final 8.2 version of the 11g draft should be out by the end of June, I decided to save my energy for looking at that version of firmware when it appears.
WEP-enabled testing showed an approximately 8% drop (from 8.6 to 7.9Mbps average throughput). But given the high throughput variation, I'd be hard-pressed to say that this is significant.
802.11g Wireless Performance Test Results
Test Conditions


- WEP encryption: DISABLED
- Tx Rate: Automatic
- Power Save: Disabled
- Test Partner: Linksys WPC55AG Cardbus card

Firmware/Driver Versions

AP f/w:
1.02 Mar 11 2003
Wireless client driver:
2.3.0.63 WinXP
Wireless client f/w:
No Info

Test Description
Signal Quality (%)
Transfer Rate (Mbps)
Response Time (msec)
UDP stream
Throughput (kbps)
Lost data (%)
Client to AP - Condition 1
0
8.6
[No WEP]
7.9
[w/ WEP]
4 (avg)
16 (max)
494
0
Client to AP - Condition 2
0
6.9
2 (avg)
9 (max)
475
0
Client to AP - Condition 3
0
6.3
2 (avg)
8 (max)
485
0
Client to AP - Condition 4
0
5.3
6 (avg)
28 (max)
495
0
See details of how we test.