---
Wireless Features
As I mentioned earlier, the router's wireless features are separated into Basic (on the Setup tab) and Advanced, shown in Figure 7 below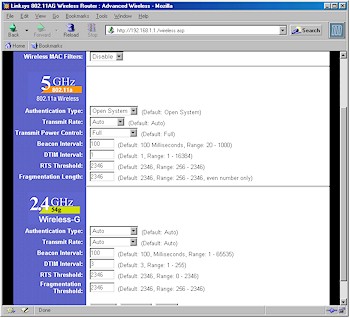 Figure 7: Advanced wireless
(click on the image for a full-sized view)
You've seen most of these settings before, and if you can't figure out what some of them do from reading the online help or User Guide, then just leave them alone.
The MAC Address Filter feature lets you enter 40 MAC addresses of clients that will be denied or allowed access to your Wireless LAN. This is actually a wireless association control, so if you have the Prevent mode set and a wireless client's MAC address entered, not only will they be denied Internet access, but more importantly access to all your wired and wireless LAN clients.
The 55AG has taken another step back from the WRT54G's equivalent feature because it doesn't offer a "pick list" of currently associated wireless clients to ease the chore of creating the MAC Address Filter list. It's the same, though, in that you can't save or load the filter list - again for ease of configuration.
WEP setting from the Setup tab is straightforward. You can enter 64 or 128 bit keys for 11b/g and 64, 128, and 152 bit keys for 11a directly in Hexadecimal. Both radios also support key entry using an alphanumeric passphrase. The passphrase method generates four different keys in 64 bit mode, four identical keys in 128 bit mode, and doesn't work at all when the 11a 152 bit WEP mode is selected. Keys also can't be saved to a file, which would make client entry a little easier.
Wireless client monitoring is pretty much nonexistent. The only way to see associated wireless clients is by looking at the DHCP client list, which offers no distinction between wired and wireless clients and shows only the Name, IP and MAC addresses, and DHCP lease expiration time.
The other thing to note is that the Wireless Bridging capabilities found in the WAP54G Access Point are not included in 55AG. So if wireless repeating or bridging are on you list of must-haves, you'll need to look at Buffalo Tech's WBRG54 router instead, which performs both functions.