---
"Dual-ing" Standards
The next thing I did was see how the router handled simultaneous normal 802.11b and draft 11g traffic. Again using Chariot, I set up a test using two client pairs. The reference draft 802.11g test pair for each test was a WinXP Home Dell Laptop with BuffaloTech WLI-CB-G54 Cardbus card to Win98SE Ethernet client. The second pair used a WinXP Home Compaq Laptop with various 802.11b cards to a Win98SE Ethernet client.
In an attempt to hit the major chipset types, I tested the following cards:
NETGEAR MA401 (Original Intersil PRISM II based card)
ORiNOCO Gold (Agere Systems chipset)
D-Link DWL-650+ (TI ACX100 chipset)
NETGEAR WAB501 (Atheros 5100X dual-band chipset)

Testing Notes:
Two separate Ethernet client machines were used to avoid overloading any single CPU,
All clients were on the LAN side of the router, so the routing portion of the product is not involved in the test.
In each test, I started the BuffaloTech card first, then kicked in the 802.11b card. Both cards then run simultaneously for awhile, then the BuffaloTech card stops and lets the 11b card finish by itself. As you can see from the plots below, all 11b cards performed similarly.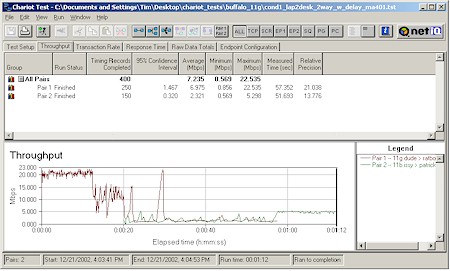 Figure 12: Two pair test - NETGEAR MA401
(click on the image for a full-sized view)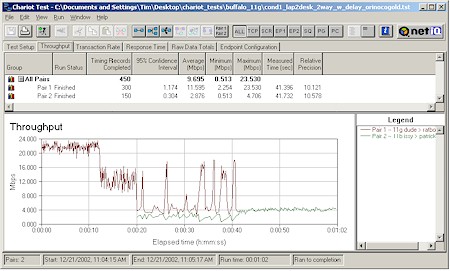 Figure 13: Two pair test - ORiNOCO Gold
(click on the image for a full-sized view)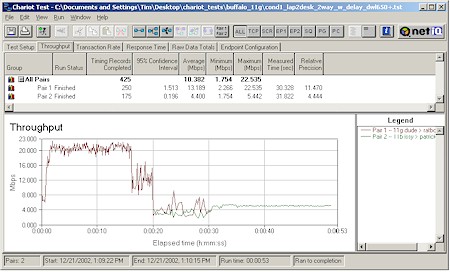 Figure 14: Two pair test - D-Link DWL-650+
(click on the image for a full-sized view)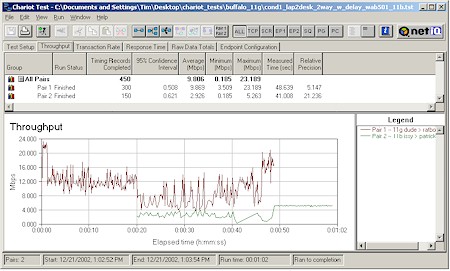 Figure 15: Two pair test - NETGEAR WAB501
(click on the image for a full-sized view)
Remember that the variation in the BuffaloTech card when it's running by itself is a known issue, and not due to any effect from the 802.11b card. The one card that seemed to be a little more 11g-friendly was the NETGEAR Atheros-based card. Figure 15 seems to show that the BuffaloTech card was able to achieve a higher average throughput when running simultaneously, but it could just be my imagination!
The 11b testing confirms what I was told during my Comdex meetings, i.e. that as soon as an 802.11b client starts sending data through an 802.11g Access Point, all the 802.11g throughput advantage is lost. The good news that the plots also show is that as long as the 11b client isn't sending data, the 11g stations will communicate at the higher rate, i.e. the association of an 802.11b client with an AP doesn't do any throughput harm.