---
A Pleasant Surprise
Clicking on the LAN Setting > WDS link brings up the settings shown in Figure 9, which control the G54's wireless repeating capability.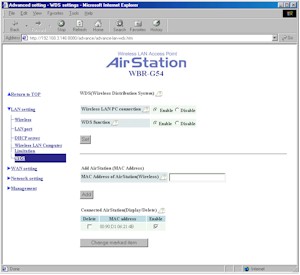 Figure 9: WDS settings
(click on the image for a full-sized view)
I didn't get to try this, since Buffalo sent me only one WBR-G54, and they said that their WDS (Wireless Distribution System) implementation is incompatible with the WDS feature on their Agere Systems (Lucent) 802.11b based products.
But it appears from the interface that you can set two (or more) G54's so that they repeat (allow clients to connect and also connect wirelessly to each other), or just form a wireless bridge (i.e. with no clients allowed to connect). This will have to be an experiment left for another time, unfortunately!
And now, what you've really been waiting for... the wireless performance results!