---
Routing Performance
Testing Notes:
• WAN to LAN tests are all run with LAN endpoint in DMZ
• LAN to WAN tests are run with LAN endpoint not in DMZ, except UDP Stream

The numbers in the chart pretty much tell the story. The Broadcom processor provides plenty of routing power. Especially impressive is the fact that the UDP streaming results show no degradation in speed and no packet loss.
I also ran 10 second IxChariot tests in both directions which looked pretty good and are shown in Figure 7.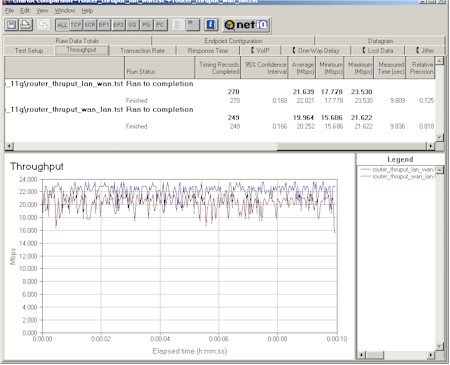 Figure 7: Routing throughput
(click on the image for a full-sized view)
Routing Performance Test Results
Test Description
Transfer Rate (Mbps)
Response Time (msec)
UDP stream
Throughput (kbps)
Lost data (%)
WAN - LAN
20.4
1 (avg)
2 (max)
499
0
LAN - WAN
22.6
1 (avg)
2 (max)
499
0
Firmware Version
1.10 (1.14)
See details of how we test.