---
VPN
The VPN features of the G54 are very basic. You get support for only one PPTP or IPsec pass through client each, and the router can handle port forwarding for one PPTP or IPsec LAN-based server.
Logging and Other Features
The G54 has many logging features, including support for logging to a syslog daemon. But, like many other products, it doesn't log normal web or other Internet access traffic.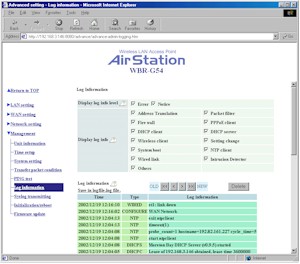 Figure 6: Logging setup screen
(click on the image for a full-sized view)
Figure 6 shows what the G54 does log, which is quite extensive. The lower part of the page shows part of the 10 pages of log info that can be viewed via the admin interface. A nice touch is the ability to click on the Save in logfile.log file link to save the logfile right to your local machine. The Syslog transmitting page provides basically the same set of checkboxes to control what it sent to the syslog stream, and includes a syslog enable button and entry box for the IP address of the computer that's running the syslog server/daemon.
Although it's located in the Network setting section, I tend to think of the Intrusion Detector as another of the G54's logging features. Its job is to "Watch for and prevent unauthorized access from WAN side devices" according to its help balloon. The Intrusion Detector Information ballon says that the following "attacks" are detected: Incorrect packets; TCP SYN FLOOD attack; Port scan; SMURF attack; IP SPOOFING attack; LAND attack; UDP port loopback attack.
But I port-scanned the crap out of it an never got a peep out of the detector. A check with Buffalo revealed that port scans really are not on the detector's list (mainly because they're so common that they produce a "cry wolf" effect) and they'll be correcting the help file in an upcoming firmware update. If you do get attacked, the router can either email you an alert, or pop-up a screen on a wireless client that's running Buffalo's client application to alert you.
To wrap up the feature review, I'll just list some of the other miscellaneous functions that the G54 has:
Can set its internal clock from an NTP server. But this is disabled by default and requires that you input the URL or IP address of an NTP server (you can find a list of NTP servers here)
Receive / Transmit packet statistics for WAN, LAN and Wireless interfaces
Built-in ping utility
Ability to reboot the router or reset it to factory defaults via the admin interface
An interesting feature omission, however, is the ability to save / load the router's configuration to / from a file.