---
Other Features
One of the features that I showed way back in Figure 1, but didn't explain is Measure Mode. Clicking this button turns your cursor into a push-pin which you click to "stick" into the Site Map. You then get constant readout of the distance from the stuck pin to the pin at the end of your cursor.
This is mainly handy for double checking distances between objects on the Site Map, but AirMagnet has enhanced this function in their latest build. The new version throws up a pop-up asking if you want to recalibrate site measurements after measuring. This new feature lets you use the Measure tool to see what Surveyor thinks the distance is between two Site Map points, allows you to tweak that measurement, then re-calculates the appropriate distances in the Site Map using the input distance information.
Surveyor also includes a number of handy calculators that can be handy to have around when you're laying out a large wireless LAN. Figure 17 shows the Free Space Loss calculator and the tabs in the shot show the other calculators available.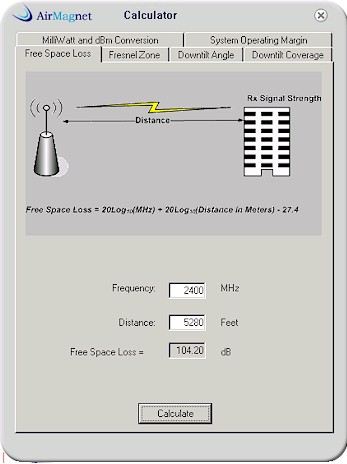 Figure 17: Free Space Loss calculator
Given that Surveyor lets you define the Site Map distances in Feet or Meters, I think it would be nice if the Calculators offered this option, too. Note that the Calculators are available even if you're running your copy of Surveyor that doesn't have a wireless card attached.
Finally, when you do have a card installed, you also get access to the Signal Distribution, DHCP and Ping tools from AirMagnet's Laptop and Handheld tools.
Room for Improvement
As wonderful as Surveyor is, there is still plenty to be done to improve this first-generation product. Here's my short list:
Did I mention the lack of applications information in the documentation?
Need to add the ability to control the colors used in the displays, but more importantly the text font colors.
The ability to add callouts and/or "sticky notes" to the displays would be a welcome addition.
I found the size of the logged and entered points in the Survey path to be too small.
There are also various display refresh issues that should be tracked down and fixed, which might just entail making them operate consistently, or documenting how they work!